Jaguar Audio Connectivity Module (ACM) Installation and Tips
This page last updated on February 8, 2012.


---
Product Description
Purchasing
Installation and User Experience
Dension BTA1500 Bluetooth Accessory
Firmware Upgrade to Enable BTA1500?
Firmware Upgrade to Better Support Apple iPhone and Ipod models!
Support for Large USB Music Collections
Adding an aftermarket Bluetooth Adapter
---
Product Description
Right after buying a 2004 Jaguar X-Type, I had to muck with the stereo. My Sports-package-equipped car came with a 10-speaker, 320-watt Alpine stereo. It's not the best I've ever heard, but it's not far off. But it has no means to connect an external audio source. This must change!

I did a little research and found out about the Jaguar Audio Connectivity Module (ACM), which adds a pair of RCA jack inputs, a USB interface and an iPod cable to Jaguar's Alpine-sourced head unit. As per Jaguar's own accessory catalog:

Enhance your driving experience by enjoying playback of any digital audio device (MP3 player, CD player, iPod, USB memory stick, etc.) through your [stock] entertainment system. With Jaguar's Audio Connectivity Module, USB memory sticks and iPods can be operated from the center console or steering wheel-mounted controls. Conveniently located in your vehicle's center armrest, the system houses all necessary audio wires/cables while ensuring clear sound quality.

S-Type -- Fits 2003 model year and beyond.
X-Type -- Fits 2002 model year and newer X-TYPEs.
XJ -- Fits 2004 model year onward.


Needless to say, there's no picture of the thing anywhere in Jaguar's literature, but I just decided to go for it anyway.


---
Purchasing the ACM
You *should* be able to order the ACM from any Jaguar dealer or parts supplier. But I've heard countless stories of customers being told that the part is no longer available, which clearly isn't true because people are still purchasing them and installing them.

The best, recent price that was relayed to me was $361.25 from Nalley Jaguar in in Roswell, GA. That price included shipping and probably includes the discount offered to Jaguar Forum Members. If you're not a member, this is one more good reason to become one.

Regardless of who you order from, the current part number is C2C40513. You'll save some confusion if you order by part number, and don't count on the parts clerk to be able to find the part by searching on a description.


---
Installation and User Experience
Here's a look at the finished installation: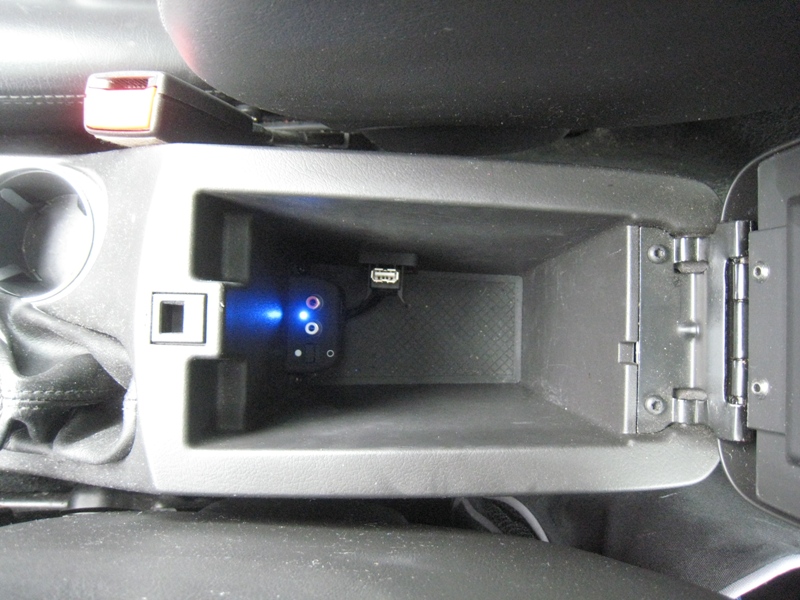 Not pictured is the included iPod cable, which I have no use for, so I didn't connect it. The ACM kit does not include any kind of mounting bracket for the iPod cable like it does for the USB cable, so it would have been just sitting in the bottom of my console, taking up space.

The ACM user's guide and startup guide include some line art which may help you get a better idea of what this thing looks like.

Installation instructions were provided for both the X-Type and S-Type, but the 2004-2009 XJ was curiously not covered in the printed instructions. Fortunately, the XJ instructions are online. You can download the installation instructions for any of these models from the Jaguar TOPIx web site. Select your language, country, vehicle model and year, then click on Owner in the top right. The Accessory Fitting Instructions for "In-Car Entertainment (ICE)/Technology" are available, along with plenty of other useful information.

BTW, installation was remarkably straightforward. The installation instructions are basically just a series of pictures with minimal text. A monkey could follow these guidelines. It took me about an hour. Maybe a little longer, but not much. The worst part of the job was securing the ACM input/switch assembly and USB interface to the inside of the console. This requires drilling some small holes into a space that can't really accommodate a power drill. I ended up taking a fresh drill bit in my hand and manually turning it through the plastic console bin. Now that I think about it, that kicked the project well past one hour. If you have access to a right angle power-screwdriver you could probably save yourself some "driller's cramp" and get the whole job done pretty fast.

Another issue that some do-it-yourself installers might run into is the need to activate the compact disc changer (CDC) function of your stereo. Apparently, some cars come with this function already activated, even though the car might not actually have a CD changer installed in the trunk. Mine was already activated, so the ACM worked as soon as I finished the installation. I should mention that my stereo always mutes itself for a split second after I first start the car, and I believe this is consistent with comments that I've read about the Alpine head unit polling the D2B optical data bus for expected accessory modules whenever it first powers on. So if your stereo mutes the sound for a split second on startup like mine does, you might already have the CDC function activated.

Regardless, the ACM's audio inputs were exactly what I needed to interface my Palm Pre smartphone to the car stereo for MP3/video soundtrack/Pandora/internet-radio playback. As expected, the sound is crystal clear. Definitely better than any FM-antenna interface could ever be.

The ACM also has a USB port, for connecting a thumb drive or even a hard drive. I had a coworker in the car who happened to have a loaded thumb drive filled with all sorts of music, sound effect ring tones and various Word documents and assorted -- ahem! -- binaries, and the ACM found the music folders without any problems. However, the interface to navigate through multiple folders through the steering wheel or head unit controls leaves a lot to be desired. Honestly, I wouldn't bother with the USB feature unless I had a single folder with a single CD's worth of music on it, or I was darned sure of how the directory structure of the drive was laid out. Any smartphone or MP3 player will likely have a much better interface for navigating a large music collection, so just go through the RCA audio inputs of the ACM rather than using the USB port.

I can't comment on the iPod connectivity because I decided long ago not to get sucked into the iTunes world. I'll leave that for others to comment on. (Actually, see below!)

BTW, I mentioned that you can use portable hard drives through the USB interface. As of this writing, I have not actually tried this, but I base this comment on what I've read on the ACM manufacturer's web site. The ACM is manufactured by Dension Corporation, and so far as I can tell, the exact same product is sold through retail channels for Mercedes Benz vehicles as the Dension Gateway 500. The last time that I checked, the retail (non-Jaguar) version of the product was selling for $400 to $500 US.

Dension also another variant of the same product for BMW, Porsche, Audi and some certain newer Mercedes models that use an Alpine M.O.S.T. interface. (My older Jaguar, and some older Mercedes models use the Alpine D2B interface.) Anyway, the Dension web site describes a number of accessories, including single-DIN console-mounted hard drive bays and portable USB hard drive cases. I would imagine a solid-state drive (SSD) would make for a nice option, too. However, I did read somewhere -- on Dension's own web site, maybe? -- that large, complex directory structures take a long time to index before the first song can be played after starting up the vehicle or stereo system. Again, I'll stick with my phone or music player and the RCA jacks.


---
Dension BTA1500 Bluetooth Accessory
A Cheap Route to the Bluetooth Highway?
While researching all of the goodies on the Dension web site, I also found reference to their BTA1500 Bluetooth module for use with the Gateway 500. This thing is supposed to add Bluetooth capability to cars already equipped with the Gateway 500, and I found it online for a whopping $84 including shipping! Could this be the poor man's way to avoid paying $800 for Jaguar's own Bluetooth module and related components?

It made sense to me. The Gateway 500 is already providing a bridge between the optical bus of the factory stereo system and some new audio accessories, so what more would it take to put a Bluetooth module on the same bus? At worst, I expected, I might have to run past the Jaguar dealer and ask them to activate the phone module function of the head unit just like what would have to be done for a Jaguar-sourced Bluetooth setup.

Well, after plugging in the Dension BTA1500 into the provided ports on the Gateway 500 -- er, um, Jaguar ACM -- I reconnected the battery, turned on the stereo, and pressed the phone button on the head unit. The display scolded me with a "NO PHONE" message. I tried "activating" the BTA1500 via the instructions supplied for other Alpine-equipped cars that the BTA1500 was marketed for. No combination of head unit key presses would give me any hint that a Bluetooth module was connected. So I ran off to my local Jaguar dealer and gave them an opportunity to bill the factory for an emissions control firmware upgrade that they said my car needed. "By the way, guys, would you mind activating the phone module while you're hooked up to the computer?" Graciously, they did that at no charge. And washed the car, too.

I got my shiny, ACM and bluetooth-equipped car back, and could hardly wait to play some tunes, wirelessly!

"NO PHONE."

I felt like Charley Brown's friend Linus, waiting for the Great Pumpkin on Halloween night. He never showed.

Utter dejection.

It would seem that the Jaguar head unit is looking for some special response from the Jaguar-sourced Bluetooth module that mimics the original Jaguar-sourced cell phone mounting kit.

Anyway, I'm not quite ready to put this Bluetooth module on E-bay for some lucky Mercedes owner to scoop up at a good price. I might see if there's a firmware upgrade for the retail Gateway 500 that differs in functionality from the Jaguar-branded part. I may also try contacting Dension and tell them the truth about what I'm trying to do. But I expect that they might just tell me that they deliberately disabled that functionality for the Jaguar head unit, as part of an agreement with Jaguar so that Jag can sell their own more expensive Bluetooth kits. Or, whoever I get to talk to might not be willing to fess up to such an agreement. Or might not know. But it can't hurt to ask.

I might end up just installing a Parrot Bluetooth kit or a Motorola T605 kit. Both are small, cheap, and probably fairly easy to tie into any line-level audio interface, which the ACM gives me through the CD changer connection. But I don't know that these solutions will allow me to use the steering wheel controls or switch to a Bluetooth-connected phone while I'm listening to anything other than the ACM module. That's just not quite what I'm reaching for.

Watch this space. This story's not over.


---
Firmware Upgrade to Enable BTA1500?
I did some research on Dension's web site regarding firmware upgrades for the Jaguar ACM and possible support for the Dension BTA-1500 bluetooth module.

The latest Jaguar ACM firmware from Dension is version 1.09. See http://www.dension.com/jaguar/?agree=0&sc=0, and download the G5DB_UPD.ROM file. You can see the firmware version in the beginning of the ROM file if you open it up with a text editor like Windows' Notepad.

(Broken link alert! It seems that Dension no longer hosts the Jaguar firmware on their site. They apparently removed it during a re-write of their entire web site. Fortunately, I kept a copy of both the 1.09 Jag-specific firmware and the installation notes.)

Interestingly, the Jaguar/Dension firmware upgrade file shares the same name as the Dension firmware upgrade for Mercedes D2B versions of the Dension Gateway 500, available here. At this writing, the latest version of that firmware is 2.10. I took a chance - risking "bricking" my newly installed ACM - and upgraded to the latest Dension D2B firmware. The upgrade worked, which is sufficient confirmation for me that the Jaguar ACM and Dension Gateway 500 (D2B version) are in fact identical.

An examination of the text file that accompanies the Dension firmware shows numerous improvements in the Dension firmware over the Jaguar firmware, including support for certain Dension branded accessories, notably the older/discontinued Dension BTA-1000 Bluetooth module. Unfortunately, this was not sufficient to get the ACM/GW500 to see my BTA-1500. But this research seems to point towards a firmware upgrade to get this thing to work.

Dension also has a version of the Gateway 500 that supports the Alpine MOST head units. An examination of the firmware history for the MOST version of the GW500 shows extensive changes to support the BTA-1500 on a variety of vehicles:


Firmware NOW compatible with:

- Audi MOST (A4, S4/RS4, A5, A6, S/RS6, A8, S8, Q7) with MMI High and MMI Basic Head Units. MMI3 is not currently supported

- Porsche MOST Equipped with CDR23/24, PCM I/II and PCM II DVD Head Units. PCM3 is not currently supported

- Mercedes MOST NTG1 and NTG2 Audio 20, Audio 50 and Comand TEXT capable Head Units. NTG 2.5 and NTG 4 are not currently supported

- Saab 9-3 MOST Head Units with front and/or rear CDC support

- BMW MOST non Idrive E87/E90/E91/E92/E93 Professional HU
- BMW MOST with I-Drive-3 E87/E90/E91/E92/E93/E60/E61/E63/E64/E65/E66/E70
- BMW MOST with I-Drive-4 E90/E91/E92/E93 CIC HU, if CDC enabled

- MINI(R56)MOST Boost Head Units and i-Drive systems (must have a CDC)

- Volvo XC90 XC90 - MY 2002-2006, High Performance and Premium sound systems, without AUX input, with CDC
- Volvo S40,V50 MY 2004-2007 with Basic and High Performance sound systems, without AUX input, with CDC. Premium system is not supported yet


I decided to try upgrading to the latest MOST firmware, with the expectation that the D2B hardware *probably* would not initiate the upgrade, but recognizing the possibility that it again might brick the hardware. Well, no upgrade, but no crash and burn either. My ACM/GW500 remains at version 2.10.

Bottom line of all of this is that newer firmware is available for the Jaguar ACM. Just use the Dension D2B firmware.

Eventually, we *may* see an update of this firmware that inadvertently (and without official acknowledgment from either Dension or Jaguar) adds BTA-1500 support to our Jaguar ACMs. Watch this space....


---
Firmware Upgrade to Better Support Apple iPhone and Ipod models!
I received an e-mail from an iPhone 4 owner who reported to me that he had some compatibility issues with his phone when hooked up to the Jaguar ACM installed in his S-Type. Kevin Fox reports "I couldn't use the iPod controls on the iPhone to control anything ipodwise when it was plugged into the car, I could only use the car audio controls which worked the same as they did with my iPod. Selecting the iPod mode on the phone changed it to a screen that said 'accessory connected' instead of the normal iPod screen. All the other phone controls worked as normal, and the music stopped as expected when I got an incoming call which was connected to the car via the Jaguar Bluetooth system."

Then Kevin upgraded to the Dension D2B firmware that I referenced above. "Adding the firmware update has allowed me to use the iPod screen on the phone in the same way no matter whether it's plugged into the car or not. The iPhone 4 is compatible with the kit both before and after the firmware change; changing the firmware just allows me to do more from the phone screen."

Note that this exceeds the functionality that Dension claims for the ACM-firmware in this compatibility chart.

Kudos to Kevin for that update. The bottom line here is if you have an iPod or iPhone, you should upgrade to that latest firmware to gain some functionality and ease of use that is not present in the user interface available from the standard "Jaguar" ACM firmware.


---
Support for Large USB Music Collections
If you're planning on using your ACM for playing music stored on a USB thumb drive or portable hard drive, you would do really well to check out Dension's File Indexer. Even so, just about any smartphone or portable music player will still have a better user interface than the ACM's USB controls, but at least you have this as an option.


---
Adding an aftermarket Bluetooth Adapter
See Adding a Motorola T605 Bluetooth Adapter